This is a seventh post in the "Cocktail Experiment" post series. In this series I write about my experience with learning to mix cocktails. Every post contains instructions on how to prepare a cocktail, cocktail's nutritional values (calories) and a good 80's song which goes along well with that particular cocktail.
As I have promised in my previous post, here is a second cocktail we have mixed at the New Year's Eve Party - Damn Fine in Blue.
Ingredients
1.5 oz (45 ml) of blue curacao
0.5 oz (15 ml) of white rum
0.5 oz (15 ml) of malibu coconut rum
0.5 oz (15 ml) of triple sec
ice cubes
Nutritional Values (calories)
1.5 oz of blue curacao - 108 calories (12.7 grams of alcohol)
0.5 oz of white rum - 32 calories (5.3 grams of alcohol)
0.5 oz of malibu coconut rum - 25 calories (3.4 grams of alcohol)
0.5 oz of triple sec - 36 calories (3.4 grams alcohol)
Total: 201 calories (21.7 grams alcohol - equivalent to 1.5 standard drinks)
1 standard drink = regular beer, glass of table wine or a shot of 80-proof (40%) spirit (around 14 grams of pure alcohol)
Preparation
I'm more of a "shaken, not stirred" guy myself, but for a change, I decided to stir this cocktail and serve it on the rocks.
To prepare it, put ice in a cocktail glass, add all the ingredients in the shaker, mix it very gently, pour mixture into the cocktail class and use the bar spoon to stir it.
As a garnish, we have used a maraschino cherry. We didn't have the decoration umbrella thing so we have put cherry directly on the side of the glass.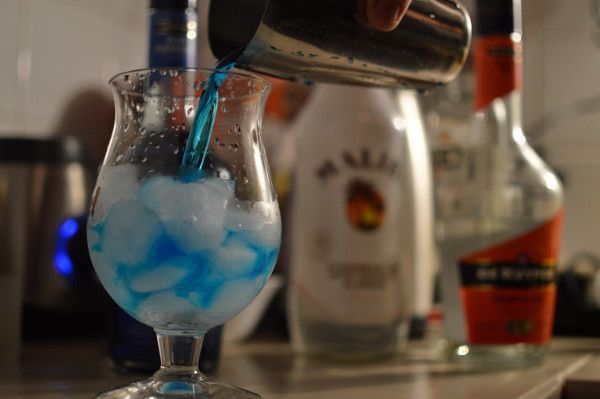 The outcome
The cocktail was pretty good, but not shaking it made it slightly too sweet for my taste. Next time I'm going to try to shake it and see how it goes.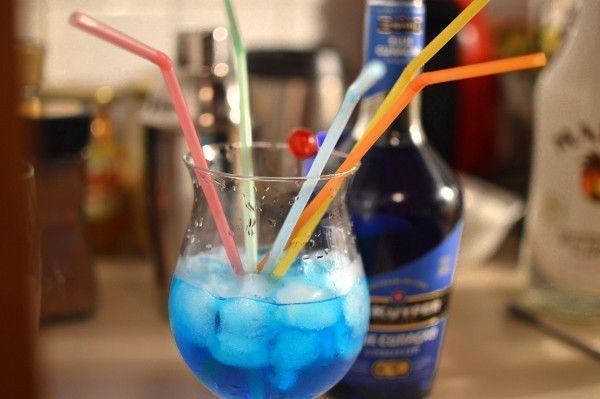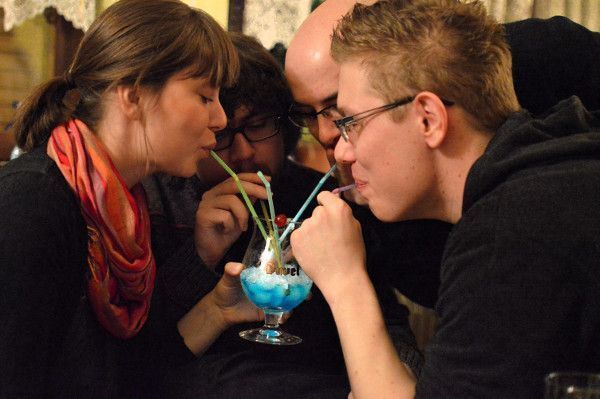 As you can see on the pictures, blue curacaco adds a nice blue color to the cocktail, hence the name.
Eiffel 65 - Blue (Da Ba Dee)
Today I'm presenting you Eiffel 65 - Blue. As you might recognize, this song is not from the 80's, but the music video is ridiculous enough to earn an exception.