This is a sixth post in the "Cocktail Experiment" post series. In this series I write about my experience with learning to mix cocktails. Every post contains instructions on how to prepare a cocktail, cocktail's nutritional values (calories) and a good 80's song which goes along well with that particular cocktail.
It has been a while since my last cocktail experiment. To make up for it, I plan to adds more posts in the upcoming days. All of those posts will be based on the cocktails we've mixed at a recent New Year's Eve party.
During the party, we've mixed most cocktail for 4-8 people, but in this post, I'm going to normalize the ingredients and serving sizes for a single person / serving.
If you are wondering why pictures in this and upcoming posts look better than usual, that's because they were taken by my friend Ivan who has better equipment and photography skills than I do.
I'm going to start with a very simple cocktail, the one with which we and a lot of other people usually start a party with. Everyone, say hello to Kamikaze.
Ingredients
1 oz (30 ml) of vodka
1 oz (30 ml) of triple sec
1 oz (30 ml) of lime juice
ice cubes
Nutritional Values (calories)
1 oz of vodka - 64 calories (9.3 grams alcohol)
1 oz of triple sec - 72 calories (6.8 grams alcohol)
1 oz lime juice - 6 calories
Total: 144 calories (16.1 grams alcohol - equivalent to 1.1 standard drinks)
1 standard drink = regular beer, glass of table wine or a shot of 80-proof (40%) spirit (around 14 grams of pure alcohol)
Preparation
This is another cocktail which is very easy to prepare. Simply put ice and all the ingredients in the shaker and mix it well (~10 seconds or so). In our case, we didn't have limes so we have used a lime juice concentrate instead.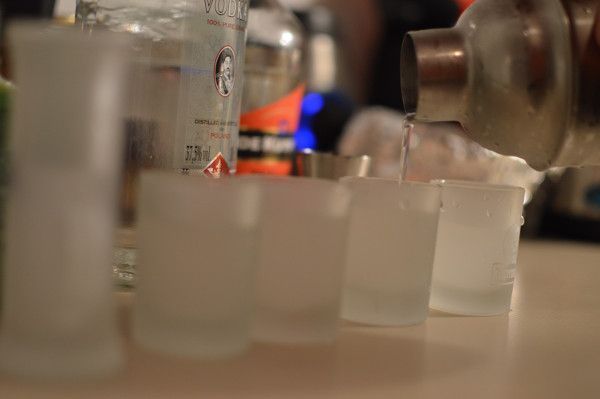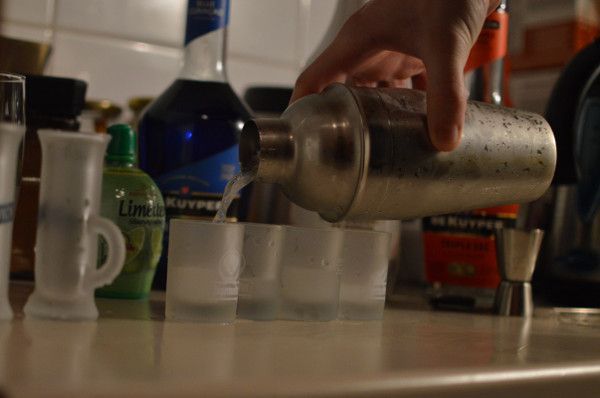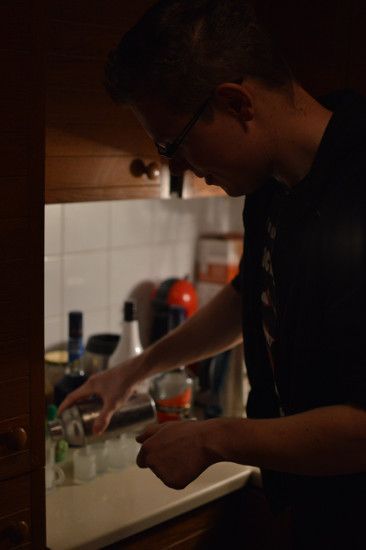 As you can notice it on the pictures, we have used shot glasses.
The outcome
This is the 5th time in the past two months or so that I have mixed this cocktail at the party and the outcome was again very tasty and refreshing (other people who have tasted the cocktail can confirm that).
I have drank kamikaze on multiple occasions at different bars before, but that is by far the best kamikaze I had so far. I think the "secret ingredient" which helps make it so good and refreshing is the lime juice concentrate I use. This juice has a tiny bit of sugar in it which makes up for a perfect taste which is not too bitter or too sweet.
Earth, Wind And Fire - September
I couldn't think of any particular 80's song which goes well with this cocktail so I'm just posting a random all around good song from late 1970's - Earth, Wind And Fire - September.