This is a third post in the "Cocktail Experiment" post series. In this series I write about my experience with learning to mix cocktails. Every post contains instructions on how to prepare a cocktail, cocktail's nutritional values (calories) and a good 80's song which goes along well with that particular cocktail.
It's time for a cocktail experiment number 3. In the first part I mixed an Acapulco, in the second one I mixed Mexican Blonde and in this part I decided to continue with my rum theme and mixed a Piña Colada cocktail.
Unlike other cocktails, I already drank Piña Colada before. The last time I had it was at a BBQ at my former coworker's place. Because of that, one of my secret goals with this experiment was to try to top Piña Colada my coworker mixed.
Sadly I must admit that I haven't succeeded this time. Piña Colada mixed by him tasted better than one I did.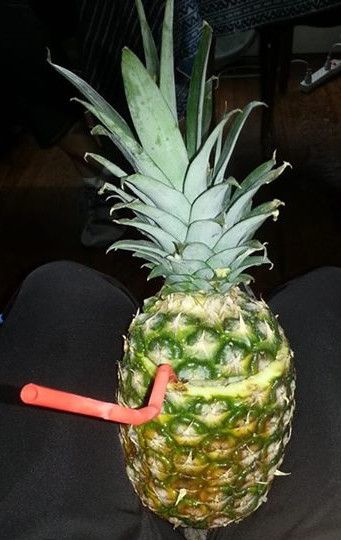 Part of the reason was that I used suboptimal tooling and ingredients and other part was my inexperience with mixing Piña Coladas. More on that bellow.
Ingredients
2 oz (60 ml) of White rum
2 oz (60 ml) of Pineapple juice
1 oz (30 grams) of Cream of Coconut
2 grams of shredded coconut
10 ice cubes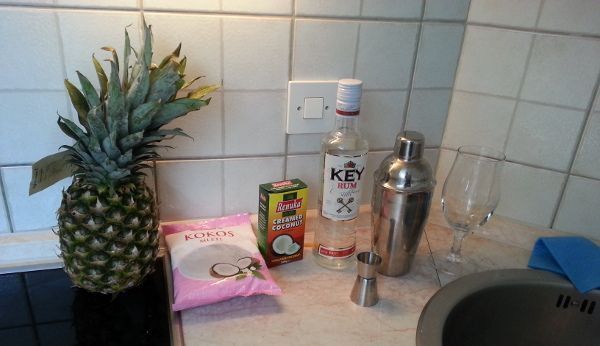 Nutritional Values (calories)
2 oz of White rum - 192 calories (27.4 grams alcohol)
2 oz of Pineapple juice - 28 calories (7.3 grams carbohydrates)
1 oz of cream of coconut - 201 calories (1.8 grams of protein, 2.1 grams of carbohydrates, 20.6 grams of fat)
2 grams of shredded coconut
Total: 421 calories (9.4 grams carbohydrates, 1.8 gram protein, 20.6 grams fat, 27.4 grams alcohol - equivalent to 1.9 standard drinks
1 standard drink = regular beer, glass of table wine or a shot of 80-proof (40%) spirit (around 14 grams of pure alcohol)
Preparation
Compared to the other cocktails I have mixed so far, preparation of this one was more complex and took substantially more time.
To mix it, I followed the steps listed bellow:
Cut open a pineapple and cut out a small slice of fruit
Cut coconut cream into small chunks
Put slice of a pineapple and cream of coconut chunks in the blender and blend it to get a pineapple juice mixed with the coconut cream
Put Ice cubes, white rum and other ingredients in the shaker
Shake it well for 30 - 60 seconds
Pour liquid into a glass
Add small amount of shredded coconut as a garnish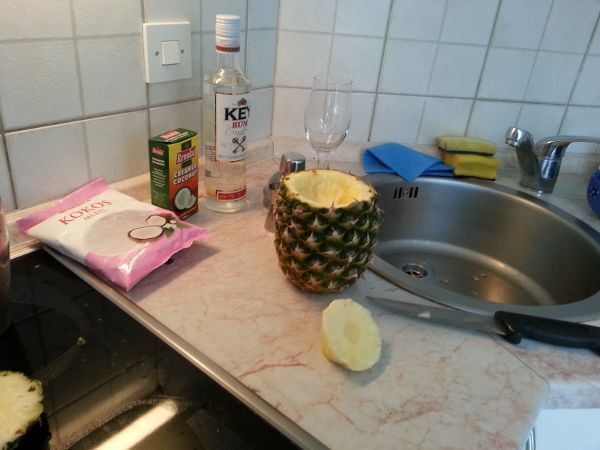 As you can see above I needed to experiment a bit. The reasons for that were:
I didn't have a right blender. I only had a big one which is not very effective at mixing things like this (see, right tool for the job matters!)
Coconut cream I had was very hard and not really creamy at all.
A lot of online recipes suggest adding cherry as a garnish, but I didn't have one and it was too late to order it from eBay so I improvised and used shredded coconut.
The outcome and lessons learned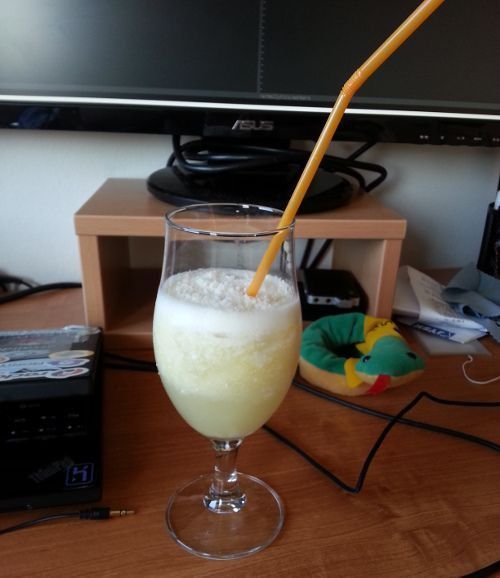 The resulting cocktail was alright and I also learned a bunch of lessons which will help me mix better cocktails in the future.
This time the cocktail was slightly too consistent (bad blender as noted above) and slightly too sour. I imagine the reason for that was that the coconut cream was not sweet enough. In any case, that is a simple problem which can be solved with a couple of drops of a liquid sweetener.
Fun Facts
As noted above, preparation of this cocktail was more complex and it resulted in some fun facts listed bellow.
Keep in mind that those facts are normalized based on the cocktails I have prepared so far.
Cocktail with the most calories - 421 calories
Cocktail with the longest preparation time - ~15 minutes
Cocktail which resulted in the biggest mess in the kitchen
YMMV, but based on those facts, you should prepare a different cocktail if you don't have a lot time or if you don't have enough space to fit additional ~500 calories in your daily intake.
On the other hand, if those two factors are not a problem, than by all means, go ahead, prepare this lovely cocktail and enjoy it with a great 80's song described bellow.
Rupert Holmes - Escape (The Piña Colada Song)
I have another all time classic and a great song to go with this cocktail. This time it is Rupert Holmes - Escape (The Pina Colada Song).
Same as the previous one, this song is from 1979, but with a very special distinction. Is is the only single in the US to rise to the number one position on the charts in two different decades (70s and 80s).
That is good reason enough for me to cheat a bit and include it as an 80's song :)