And now for something completely different.
I'm not a big alcohol lover myself (some people would even go as far as calling me a beer hater), but I do like to occasionally drink a good cocktail. A while back I thought it would be fun to learn how to mix cocktails so I decided to do just that.
As many of my friends can attest, I'm also a big fan of 80's music. To keep everything more interesting and fun I thought it would be even better, if every week, I could mix a cocktail which in some way references or relates to a good 80's song. And you must admit, there aren't many better things out there than a good cocktail plus great 80's music!
To be able to mix cocktails you need ingredients first. I went to a local supermarket and bought all kinds of liquor (tequila, vodka, triple sec, malibu, white rum, kahlua, …) and other "essentials" (lemons, limes). I also ordered a nice cocktail shaker from eBay.
The shaker finally arrived today so it was time to mix the first drink. My first drink was an Acapulco cocktail.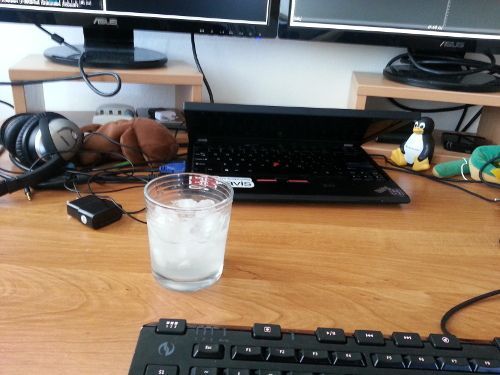 There are many recipes and variants of this cocktail out there. Those variants include using dark rum, white rum, tequila, pineapple juice, orange juice and so on.
Since this was my first time I decided to keep it simple and used the ingredients listed bellow.
Ingredients
1 oz (30 ml) of White rum
1/2 oz (15 ml) of Triple Sec
1/2 oz (15 ml) of Lime juice
Ice cubes
The preparation was very easy - simply put ice and all the ingredients in the shaker, mix it and enjoy the drink.
As far as the outcome goes, I really liked the taste. Some of the recipes also call for adding sugar, but I didn't do that since I'm not a fan of drinks which are too sweet. I think this was a great choice which made the cocktail taste even more refreshing.
Nutrition Information (calories)
1 oz of White rum - 96 calories (13.7 grams alcohol)
1/2 of Triple Sec - 52 calories (5 grams carbohydrates, 4.6 grams alcohol)
Total: 148 calories (5 grams carbohydrates, 18.3 grams alcohol) - equivalent to 1.3 standard drinks
1 standard drink = regular beer, glass of table wine or a shoot of 80-proof (40%) spirit (around 14 grams of pure alcohol)
Loco in Acapulco - The Four Tops
As noted above, nothing goes better together with a cocktail than a great 80's song. The song which perfectly matches this cocktail is Loco in Acapulco by The Four Top. What makes thing song even better is that it was written by my favorite 80's musician of all time - Phil Collins.