This is a fifth post in the "Cocktail Experiment" post series. In this series I write about my experience with learning to mix cocktails. Every post contains instructions on how to prepare a cocktail, cocktail's nutritional values (calories) and a good 80's song which goes along well with that particular cocktail.
It's been more than two weeks since my last experiment. During that time I was pretty busy with the usual stuff which these days means working on a startup. Startup work also involved a trip to London, but sadly I didn't have her majesty's favorite drink.
And the Lord said, "Let there be gin" and it was gin o'clock. #ginoclock

— Elizabeth Windsor (@Queen_UK) October 7, 2013
Anyway, lets get down to the real thing. I wanted to prepare Mai Tai again, but I still haven't managed to obtain all the ingredients required. I did obtain Bourbon recently though, so I decided to mix a simple Bourbon based cocktail called Quickie.
Ingredients
1 oz (30 ml) of White rum
1 oz (30 ml) of Bourbon Whiskey
1/2 oz (15 ml) of Triple Sec
10 ice cubes
Nutritional Values (calories)
1 oz of White rum - 96 calories (13.2 grams alcohol)
1 oz of Bourbon - 70 calories (12.8 grams alcohol)
1/2 of Triple Sec - 52 calories (5 grams carbohydrates, 4.6 grams alcohol)
Total: 218 calories (30.6 grams alcohol - equivalent to 2.1 standard drinks)
1 standard drink = regular beer, glass of table wine or a shot of 80-proof (40%) spirit (around 14 grams of pure alcohol)
Preparation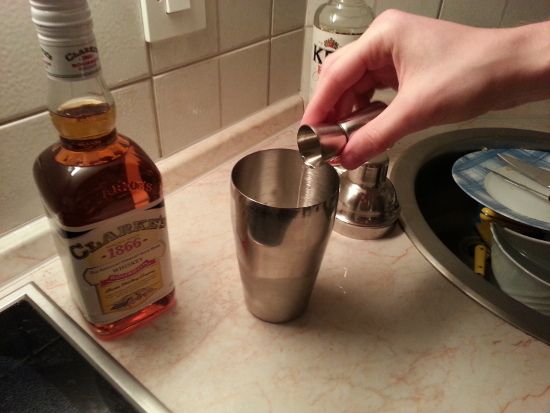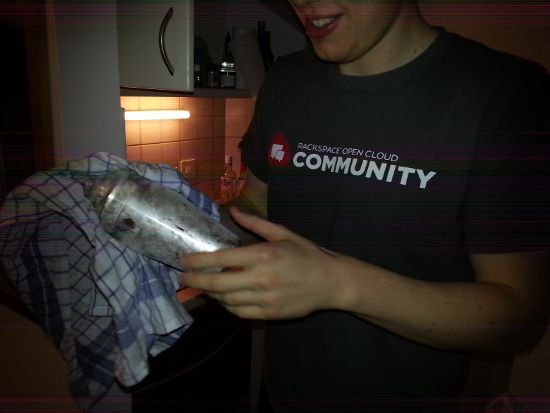 Put ice and all the ingredients in the shaker, mix it and enjoy the drink.
The outcome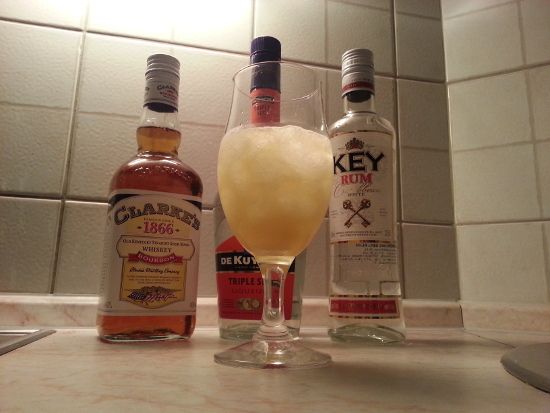 The drink wasn't too bad, but I personally prefer more fruity cocktails so the alcohol taste in this one was slightly too pronounced.
Duran Duran - A View to a Kill
This time I decided to include a song which relates more so to my latest trip than it does to this cocktail.
My latest trip included a missed flight which resulted in taking a train from London to Paris. A View to a Kill by Duran Duran seems like a good fit here.
This song was originally created for the James Bond movie A View to a Kill and the music video includes some pretty ridiculous scenes recorded on the Eiffel Tower.
And don't worry, there are plenty of other good James Bond songs left I can use when I'm going to mix a Martini :P