This is a fourth post in the "Cocktail Experiment" post series. In this series I write about my experience with learning to mix cocktails. Every post contains instructions on how to prepare a cocktail, cocktail's nutritional values (calories) and a good 80's song which goes along well with that particular cocktail.
Hey y'all, welcome to the cocktail experiment number 4. In this experiment I decided to prepare Cuba Libre aka good ol' Rum and Coke.
Originally, I wanted to prepare Mai Tai (as suggested by Robert), but I didn't have Orgeat syrup so I decided to prepare something simple instead.
Well, I actually used Coca Cola Zero so it would be more correct to call it light / skinny / diet / fat free / organic / eco / vegan / gluten free Cuba Libre. Sorry, got slightly carried away by all those lovely "catch-phases" they like to use on the food labels, especially in the US. Did you know they even put "fat-free" labels on some foods which are naturally fat-free and so on? Anyway, I digress…
Ingredients
1 oz (30 ml) of Dark rum
3 oz (90 ml) of diet coke (Coca Cola Zero)
1 oz (30 ml) of Lime juice
10 ice cubes
Nutritional Values (calories)
1 oz of Dark rum - 69 calories (11.3 grams alcohol)
Total: 69 calories (11.3 grams alcohol - equivalent to 0.8 standard drinks)
1 standard drink = regular beer, glass of table wine or a shot of 80-proof (40%) spirit (around 14 grams of pure alcohol)
Preparation
Preparation time is very short and it hardly gets any simpler than that. Simply put ice and all the ingredients in a glass, add a drop of lime juice and mix it well.
You can find many different variations of this recipe online. Some of them call for using white rum, dark rum, lime juice, no lime juice and so on.
I decided to use dark rum and add a drop of lime juice. I think adding a lime juice was again a great idea and made the cocktail more refreshing.
The outcome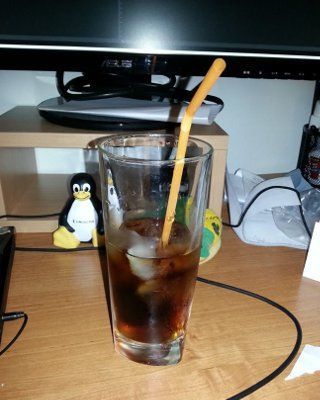 Not much to say or add here. It's good ol' rum and coke, always tasty and refreshing.
Gibson Brothers - Cuba
I have another song from 1979 for you. This time it is Cuba by Gibson Brothers.